As most of Australia emerges from lockdown, and businesses commence reopening in a new post Covid-19 trading environment, businesses still face many unknowns.

If you are experiencing any of the following, you must address these issues as soon as possible.
is your business unable to pay rent and substantial amounts are now owing to the landlord (and your lease contains personal guarantees)?
does your business have outstanding BAS debt or other tax commitments?
is your business in a position where it has unpaid employee superannuation contributions?
does your business have significant amounts overdue to creditors?
Don't wait. The best chance for your business to survive past the Covid pandemic is to act now.
2022 a year of unknowns?
The Australian economy has to date fared well during Covid-19, however, 2022 is set to present some challenging trading conditions for those sectors which have been most impacted during the lockdowns.
The ATO has to date been extremeley lenient on companies with unpaid tax debt. Don't expect that to continue;
Banks have also been reluctant to act against companies in arrears of their commitments. The banks will not remain passive as we emerge from lockdown;
Major creditors have in general not been taking action for collection because there have been both statutory and practical impediments to creditors commencing debt collection procedures; and
Last year we had significant financial support from government in the form of Jobkeeper and Jobseeker
If your business has been adversely impacted through 2020 – 2021, there is support and there are viable options available, however, you must address these issues as soon as possible.
What is the solution?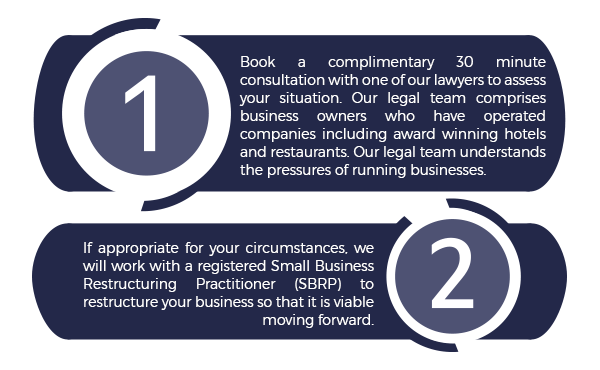 If we can't find a viable restructuring solution for your business, we will provide legal advice as to legitimate ways to minimise the impact of your business' potential insolvency.
The critical issue is timing. The longer the time taken to address the issues, the fewer the alternatives available to you and potentially the worse the end result.
Apres Legal can assist you and your business to minimise the impact of any difficult trading periods which you face.
Book a complimentary 30-minute assessment with a member of Apres Legal's team.
Disclaimer:
This article is not legal advice and should not be relied upon as legal advice. All articles from Apres Legal are intended to provide informative information. Legislation and case law may have been simplified and/or paraphrased. If you would like legal advice based on your current circumstances, you should contact Apres Legal.